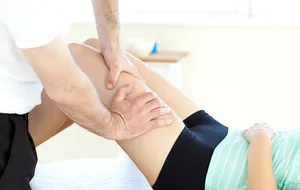 After a complete evaluation is performed and your diagnosis has been given, a specific and individualized care program is created for you. We focus first on relieving any inflamed and injured areas using natural medical pain therapies and chiropractic care. After the inflammation is eased, our team helps patients rehabilitate the injured areas to help build the strength they need to heal and stay pain free.
Our spinal rehabilitative program is centered on the improvement of the spinal discs and spinal postural correction. By combining Avon chiropractic care, medical pain management and spinal decompression we not only lower the inflammation on the injured discs but also help to rehydrate them and heal them.
SpinalCare Physical Medicine treats the cause of your condition so it does not return. Using the latest techniques our rehabilitation team will help you achieve fast pain relief, increased flexibility, proper postural improvements and range of motion. We'll work together to stretch chronically tight muscles and strengthen weakened muscles and joints.