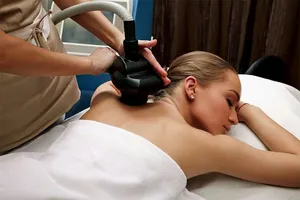 When we experience stress in our lives, it decreases our body's immune response, making us vulnerable to illness and causing us to be tired and listless. Massage therapy can help!
Massage not only brings about relaxation for our patients, but we also use it in our office for its many physical benefits. The physical changes that massage brings to your body can have a positive effect in many areas of your life.
At SpinalCare Physical Medicine, we use the G5 Massage to prevent future chronic pain conditions by effectively dealing with the cause of the problem and eliminating it.
Massage therapy is proven to enhance your quality of life with these benefits:
Increases circulation allowing the body to pump more oxygen and nutrients to tissues and vital organs
Stimulates the flow of lymph, the body's natural defense system against toxic invaders
Relaxes and softens injured or overused muscles
Reduces spasms and cramping
Increases joint flexibility
Reduces recovery time, prepares muscles for strenuous activity and helps alleviate pain associated with athletic activity
Releases endorphins, the body's natural painkiller
Controls and relieves post-surgical pain and adhesions
Improves range of motion and decreases lower back pain
Relieves migraine pain and reduces need for medication
Provides exercise and stretching for atrophied muscles