What is Class IV Laser Therapy?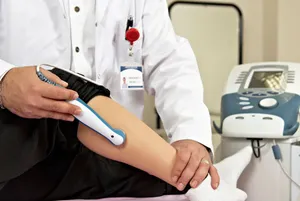 Laser therapy is a non-invasive technique to help reduce pain and inflammation. Laser therapy can be safely used as an adjunct or replacement for pharmaceutical drugs. This pain relief treatment is FDA cleared and enables patients to have an alternative to drugs and surgery.
Laser therapy produces an intense beam of light that is made of only one "coherent" wavelength. A coherent wavelength synchronizes all of the photons in the wavelength. This is important to treatment because it allows human tissue to respond to the light beam by improving cell functions that relate to tissue repair. Positive stimulation of the inflamed or traumatized tissue allows for more optimal recovery. Laser therapy is used for pain relief, but also enhances the immune system and other tissue so the body is better able to fight pathogens.
Class IV Laser Therapy Treatment Process
Laser therapy treatments take between 8 and 15 minutes depending on the condition being treated. It must be administered directly to skin as laser light cannot penetrate through layers of clothing.
Depending on your condition, therapy may be administered through either a contact or non-contact hand piece. The contact hand piece is designed to allow the practitioner to physically manipulate the tissue while administering the treatment resulting in a laser-massage treatment.
Patients generally see results after 3 to 5 treatments. Our doctors at SpinalCare Physical Medicine will develop a treatment plan that is optimal for your condition.