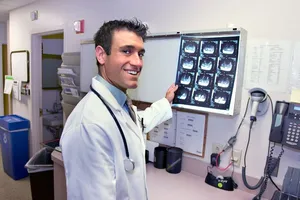 At SpinalCare Physical Medicine you can expect only the best and highest quality in our therapies and diagnostic testing. We focus on providing the best in traditional neurological and medical pain testing and use the most advanced and cutting edge tests in medicine today.
Diagnostic procedures help the SpinalCare Physical Medicine team assess your particular condition. We use a broad range of diagnostic tools to better understand your problems and treatment alternatives.
This is a complete list of our on-site services:
Radiographs - We use the lowest amount of radiation with our diagnostic x-rays. Our team of doctors utilizes these tests to assess not only injuries to the spine but also to the extremities as well. X-rays are painless and use short wavelength energy beams to create a photograph.
NCV Testing (Nerve Testing) – NCV tests allow our doctors to diagnose where in the body there is dysfunction or impairment to a nerve. This test is used to help target where a Sciatic issue or Peripheral Neuropathy may be stemming from, among other uses.
MRI Testing - We offer advanced diagnostic results with the implementation of MRI testing technology.
Functional and Performance Testing – To assess the full extent of spinal injury, our doctors and therapists do a series of exams and tests to measure the level of physical impairment. These tests allow us to fully evaluate the level of impairment and injury.