When your health needs are under the direction of a SpinalCare Physical Medicine doctor or professional, it is all about the patient! Our goal is to provide extraordinary personalized care that is difficult or impossible to find elsewhere. We strive to create valuable and lasting relationships with those that honor us with the privilege of caring for their most prized possession, their health. Our primary source of new patients comes from referrals from our existing patients.
---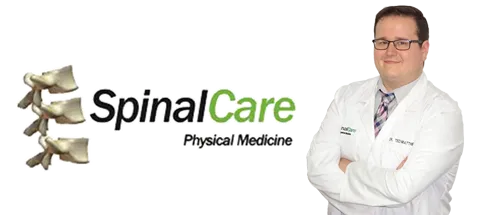 Dr. Ted Matthews
Director-Spinal Care
Dr. Matthews has been assisting families in achieving wellness goals through professional chiropractic care, physical therapy and injury rehabilitation for several years.
Dr. Matthews is committed to his patients. He focuses his talents, educational background, and personal attention to each patient. He analyzes each patient to help improve their health or maintain good health. Dr. Matthews is trained and certified in non-surgical spinal decompression, electrodiagnostics, instrument assisted soft tissue mobilization (Graston Technique).
Dr. Matthews is a Pittsburgh native and decided to become a doctor early on. He comes from a family with a background in the medical field. Dr. Matthews completed his undergraduate studies at West Virginia University, where he graduated with honors receiving a Bachelor's of Science in Exercise Physiology. He later went on to receive his Doctorate in Chiropractic from Palmer College of Chiropractic in Florida.
Spinal Care Physical Medicine takes tremendous pride in providing professional chiropractic care and services for residents of Central Indiana and the surrounding communities.
Dr. Matthews and Dr. Porterfield believe that proper exercise, nutrition, mental attitude, and nerve supply promote a healthy mind and body. Health is a journey, and together we are here to help guide you along the way.
If you have been injured or are experiencing physical discomfort, contact our office in Avon today at (317)272-4100 to schedule a free confidential consultation.

---